About Our Dental Practice in Santa Fe, NM
Dental Hygiene Care of Santa Fe is locally owned by Pamela Corazzi Grabowski. Pam was born and raised right here in Santa Fe. She attended St. Anne's, Alvord, De Vargas, Mid-High, and graduated from Santa Fe High. Upon graduating from the University of New Mexico, she opted to return to the city she always loved. When she had the opportunity to own her own business, she saw that as an opportunity she could not pass up. She worked after school and on Saturdays as a dental assistant through high school and college, and many patients remain with her today. That fateful day, when her general dentist asked her if she might be interested in a part-time job, she had no idea it would turn into her lifetime career.
What does a locally owned business mean to you?
As a locally-owned and operated practice, we are able to devote more time to patient care — we do not have any quotas to meet. We take the necessary time for each patient and get to know their needs and goals for their smile.
Helping every patient feel welcome and safe in our care is important to us. Never feel embarrassed or think you will be judged in our office. There is no time like "right now" to get started on improving your oral health. We do dental hygiene and we do it right. We are a team of local professionals and will be your partner to achieve a healthy mouth. Let us be your advocate standing by your side to make this happen.
Santa Fe's Best Kept Secret
In 1999, the New Mexico State Legislature passed a law allowing Registered Dental Hygienists who meet certain criteria to become certified in collaborative practice. Collaborative Practice RDHs are allowed to provide dental hygiene "scope of practice" services without the general supervision of a dentist, but in collaboration with dentists. We currently work with over 30 dentists in the Greater Santa Fe and Northern New Mexico area.
When this law passed, under 10 States in the nation were attempting to create new State laws which would increase patient access to care. According to the American Dental Hygiene Association website, we currently have 45 States which have an alternate Dental Hygiene Practice. We are proud that each of our Registered Dental Hygienists are certified in Collaborative Practice. Each lobbied extensively to make this happen in our great State of New Mexico. We certainly were ahead of our time in making this happen.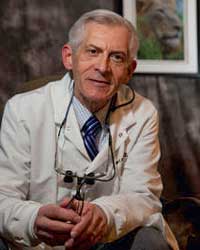 Meet Dr. Appelbaum
Dr. Marc Appelbaum is a graduate of New York University College of Dentistry 1974. He was elected to the dental honor society (OKU). He did his general practice residency at the French and Polyclinic hospital NYC. His specialty training in prosthodontics was completed at the Veterans Administration Hospital Buffalo New York and at the University of Buffalo School of Dentistry department of prosthodontics in 1977.
Dr. Appelbaum maintained a practice limited to prosthodontics in Morristown New Jersey from 1977 to 2018. He was an attending at Morristown Memorial Hospital department of dentistry from 1978-2017. He is now on the Emeritus staff.
Marc has taught at Rutgers School of Dental Medicine in the postgraduate prosthodontic program as an Associate Clinical Professor for the past twenty years and continues to maintain this academic affiliation.
He is a Fellow in the Greater New York Academy of Prosthodontics, Fellow American College of Dentists, Fellow International College of Dentists.
Dr Appelbaum has published 19 articles in refereed journals and a chapter in a textbook
He is married to his high school sweetheart. They have four children and eight grandchildren. His passions, other than dentistry, Include vigorous exercise, photography travel, and he and his wife are active collectors of contemporary Native American art.
Isn't it about time?
We are on "Team You" to turn around your anxiety and get you on the track to a healthy mouth and a healthier you.
Already have excellent oral health?
We can help you keep it that way.
Call us – let's talk!!!